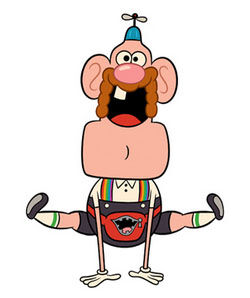 Uncle Grandpa is the main character of the show. He is everyone in the worlds uncle and grandpa! He drives and lives in his RV with his best friends Mr. Gus, Giant Realistic Flying Tiger, Pizza Steve, and Belly Bag. Every day Uncle Grandpa helps a child in need and is always a time they'll never forget!
Physical Appearance
Uncle Granppa has a long brown mustache and a tooth that always sticks out further than the others. He wears a blue propeler hat that rotates when he is asleep, white gloves, a white button up shirt with rainbow suspenders that hold up his black pants, knee socks that have a single green stripe, and black shoes. Uncle Grandpa is part of the Belly Brotherhood due to the fact that he has a a big belly that can mold and do all kinds of things. Uncle Grandpa also has the ability to seperate his body into eight different parts: head, left arm, right arm, stomach, left leg, right leg,eyes and nose.
Behavior
Uncle Grandpa is very kind person. He is very energetic and loves to say "Good Mornin!". His emotions are very easily swayed by each situation. He shouldnt be considered "bipolar" but his emotions change very quickly depending on the circumstances. He likes helping kids but doesn't always have the patience for them. Uncle Grandpa can be very orgetful too and he often wanders from one task to another.
He lets his pet lamb chew on his nose and then puts on a new one that he gets from his cabinet drawer.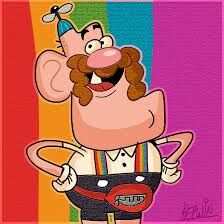 Community content is available under
CC-BY-SA
unless otherwise noted.